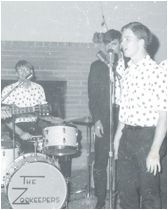 These three 1960s college classmates found that neither time nor regular careers could diminish the joy of music they had played together in bands at the University of North Carolina more than forty years ago.
On a lark, at a spring 2006 reunion, Taylor Branch (author), Bill Guy (lawyer), and John Yelverton (real estate developer) stayed up all night recording cover songs from the golden era of crossover soul and Beatlemania. This is the amazing result. Pure fun and musical delight!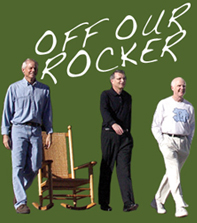 OFF OUR ROCKER is the impossible comeback group--never before discovered but launched here for extended thrills, in OverTime.
Taylor Branch is the Pulitzer Prize winning author of many books, including the recently completed landmark trilogy "America in the King Years" on Martin Luther King and the civil rights era. Information on his literary work is available on the website,
www.taylorbranch.com.
Bill Guy has recorded many CDs of Christian music available through his website, www.billguysongs.com.
John Yelverton doesn't have a website yet, but OverTime listeners can hear his merry cackle between song tracks.