We're Back!
The Story
These three college bandmates found that neither time nor regular careers could diminish the joy of music they played together forty years ago.
On a lark, at a spring reunion, they stayed up all night recording cover songs from the golden era of crossover soul and the British invasion.
OverTime, their 2006 debut CD, has gone plastic to sell dozens of copies. The Shady Lane Studio, disguised as a spare room in Wendell, North Carolina, already is renowned for harmonic joy. We are truly Off Our Rocker. Everyone is stunned by the sound! It's better than aspirin or chocolate.
Now the dream continues. Here is The Blue Album, your share of pure wannaBeatles zest and devotion.
The Band
Taylor Branch is a Pulitzer Prize-winning author of many books including an historical trilogy about the civil rights era, America in the King Years. Information on his work is available at the website, www.taylorbranch.com. Bill Guy is a retired attorney. He has recorded many original songs, some of which are available on iTunes and www.godlychristianmusic.com under Bill & the Boomers. John Yelverton is a retired real estate developer. He is currently spending much of his time in the mission field, sharing the good news of Jesus Christ in Africa and Asia.
The Blue Abum
BUY The Blue Album on CD

(the perfect holiday gift)
DOWNLOAD The Blue Album

(download full album or single tracks)
LISTEN to The Blue Album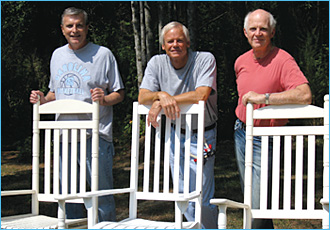 (pictured above, l-r) Bill Guy, John Yelverton, Taylor Branch.
Photographs: Diane Guy.
Design: Karin Tracy, littlebdesign.com.
Thanks to: Christy Macy, Peg Yelverton, Tom Hall.